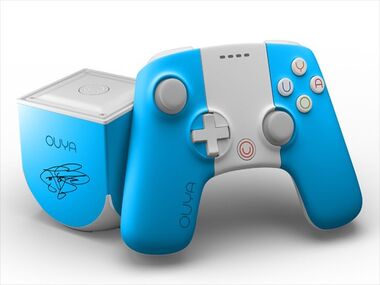 The Sky Blue Reading Rainbow OUYA was a limited edition OUYA, exclusively available to those who backed the "Bring Reading Rainbow Back" Kickstarter campaign for $175 or more. Each Sky Blue OUYA came signed by LeVar Burton. This limited edition came with an exclusive color scheme, 16GB storage, and a standard controller, exactly the same as the Matte Black OUYA Controller, except for the color scheme.
The "Bring Reading Rainbow Back" Kickstarter campaign succeeded July 2nd, 2014, surpassing it's goal of $1,000,000 with $5,408,916. As of July 2nd, 2014, it is impossible to acquire a new Sky Blue OUYA.
The features of the Sky Blue OUYA are identical to that of the original.
The OUYA features the Discover Store for applications and games designed specifically for the platform. The hardware design of the OUYA allows for easy opening, allowing easy access to modding and possible hardware addons, justifying the name "open and hackable" of which Jilie Uhrman has called it. Any OUYA console can be used as a devkit, and games/apps can be created on Windows, Mac, and Linux-based operating systems. All games are required to have some element of a free-to-play aspect, whether that involved being a completely free game, free trial, or purchasable upgrades, levels, or items.
Specifications
Edit
Operating System: Android 4.1 Jelly Bean
System-on-chip: Nvidia Tegra 3 (T33) SoC
CPU: 1.7 GHz Quad-Core ARM Cortex-A9
Storage Capacity: 16 GB internal flash memory
Memory: 1 GB RAM
Display: HDMI (1080p, 1080i, 720p)
Graphics: Nvidia ULP GeForce
Input: USB 2.0, Micro USB (for PC connection)
Controller Input: Wireless Controller
Connectivity: Wi-FI 802.11 b/g/n, Bluetooth LE 4.0, Ethernet port
Dimensions: 75 mm (2.95 inc) cube 
Controller
Edit
The Sky Blue OUYA controller has 2 analog sticks, a connected D-pad, RL triggers, shoulder buttons, and 5 buttons, as well as interchangeable faceplates. The only difference between the Sky Blue controller and the original is the color scheme.
See the main Sky Blue OUYA Controller page for more information.