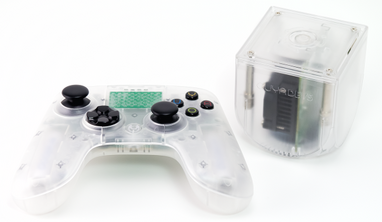 The Transparent Devkit OUYA was shipped to a small selection of developers, (1200) and was an early model of the OUYA. It was send to the 1,200 lucky developers on December 28, 2012.
Specifications
Edit
Operating System: Android 4.1 Jelly Bean
System-on-chip: Nvidia Tegra 3 (T33) SoC
CPU: 1.7 GHz Quad-Core ARM Cortex-A9
Storage Capacity: 8 GB internal flash memory
Memory: 1 GB RAM
Display: HDMI (1080p, 1080i, 720p)
Graphics: Nvidia ULP GeForce
Input: USB 2.0, Micro USB (for PC connection)
Controller Input: Wireless Controller
Connectivity: Wi-FI 802.11 b/g/n, Bluetooth LE 4.0, Ethernet port
Dimensions: 75 mm (2.95 inc) cube
The features of the Devkit are similar of that to the current OUYA, although the UI was much less polished, and many features were, as of then, un-implemented. The Devkit OUYAs can be updated and used as any other OUYA.
Controller
Edit
The Devkit controller is similar to the modern OUYA controller, although it was transparent, sported less-tactile analog sticks, and a different type of touchpad. These two issues were eventually fixed by OUYA Inc. thanks to feedback from the developers.
More information on the Transparent Devkit Controller main page.